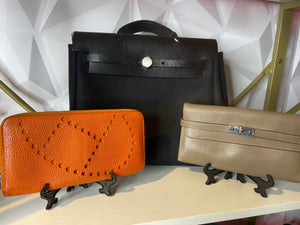 Unraveling the Mystery: Why Hermès Keeps Raising Their Prices
It's no secret that the bags from the french brand Hermès remain top of the line and extremely sought-after. Rarity, exclusivity, and high prices have become a signature part of what makes this luxury brand so coveted. But why is the price constantly going up year after year? Here we'll take a closer look at Hermès' pricing system in order to debunk some of the mystery around their costly bags – proving once again that you really do get what you pay for when it comes to everything from quality fabrics to lifetime craftsmanship guarantee!
Hermès is one of the world's most iconic luxury brands, and its prices have been steadily increasing over the years. This is due to a combination of factors, including their reputation for crafting high-quality products and the limited availability of their items. For example, Hermès only releases a certain number of bags per year, and they are made with rare materials like crocodile skin, alligator skin, and ostrich leather. The company also offers bespoke items such as custom leather wallets and pieces that can only be found in exclusive boutiques around the world. With rising demand for these items, prices continue to increase. Additionally, Hermès takes great pride in its craftsmanship – from the skillful and intricate stitching to precise design details – which contributes to their high price tag. All of this combined makes Hermès an unbeatable symbol for luxury status that remains highly sought after by consumers.
Hermès' commitment to using the highest quality materials is a key part of their success. From the iconic Birkin bags, to the Kelly and Constance lines, each item has been designed with exquisite attention to detail and crafted from superior leathers and skins. Whether it be luxurious calfskin, elegant ostrich leather, or supple alligator hide, Hermès ensures that only the finest hides are used in their design process. The tannery used by Hermès has its origins in the 17th century and uses traditional methods of tanning as well as modern technologies to produce top-of-the-line leathers for Hermès' products. Furthermore, each piece is expertly handcrafted using high-end finishing techniques such as folding, stitching and burnishing. This commitment to quality has enabled Hermès to become one of the most iconic luxury brands in the world today.
Expert craftsmanship is an important aspect to consider when investing in long-term purchases, such as furniture or other home items. A lifetime of use is something that should be expected from these pieces, and it begins with the craftsmanship of the item. When looking for a piece that will last, you should look for expert craftsmanship from experienced makers or manufacturers to ensure high quality and durability. Consider looking for companies that have been around for a long time, as they are more likely to stand behind their work. Look at reviews online and ask friends and family who they use if they have had success in finding well-crafted pieces with a lifetime of use. If you want to guarantee your purchase is of the highest quality, make sure that the materials used in making the item are top of the line and properly treated to endure through years of wear and tear. Investing in expert craftsmanship can save you money in the long run by ensuring your purchase will stand up over time without needing repairs or replacements.
Hermès is well-known for producing some of the finest, most exclusive luxury items in the world. As part of this, the company has gone to great lengths to ensure that its products remain both exclusive and rare. This is an important part of their philosophy and adds value to the items they produce. By making their items difficult to obtain, Hermès ensures that each item is highly sought after by wealthy collectors and connoisseurs alike. The result is a product that carries with it a sense of exclusivity and desirability that drives customers to purchase these high-end items, further increasing their value. By limiting supply and keeping their products scarce, Hermès creates an aura of prestige surrounding each of their items and allows them to be seen as uniquely desirable investments that can appreciate in value over time.
The success of Hermès products is mainly due to their excellent quality, expert craftsmanship and timeless designs. Their use of premium materials such as leather and exotic skins ensures that their goods are strong, durable and stylish. The attention to detail in the design of each item is what truly sets Hermès apart from other luxury brands. From hand stitching to meticulously chosen hardware, every piece of a Hermès product has been carefully considered with an eye for precision and artistry. This dedication to craftsmanship has made Hermès one of the most sought-after luxury labels in the world.
Furthermore, with global inflation over 8% has also contributing to the increase of price for Hermès products. As prices rise for goods and services, consumers look for ways to save money while still purchasing quality items. Since Hermès goods are designed with longevity in mind and feature high-end materials, they remain a smart investment for shoppers looking for long-term value. The combination of superior craftsmanship and a guaranteed return on investment makes Hermès products one of the best investments out there for consumers who want to park their money in an investment that would inevitably make them money as soon as they leave the store.  We all know someone that purchased a Birkin or a Kelly 15 years ago and if the condition is impeccable and if it has the right type of leather we've seen them go for well over 100% of what the price once was.
Some may see Hermès' luxury brand and high prices and be turned away, thinking the company is taking advantage of people. However, as this blog post has detailed, there are several reasons for their cost increases. The quality materials used in each product guarantees durability and longevity. In addition, only a small number of people have access to Hermès items because of the level of exclusivity associated with the brand. As a result, customers who purchase products from Hermès can be sure they are receiving an item that is not only well-made but also rare. To learn more about how Hermès' items remain top-of-the-line despite increasing prices, read more here.
-----------------------------------------------------------------------
For Indoor Plants Care, Please Visit Our Website EdenicEarth.com
---